We help our guests safely visit and responsibly enjoy beautiful wild places.
Passion for Sharing the Outdoors
To us, the best days are synonymous with spending time outdoors and sharing it with great people.
We feel privileged and happy to guide less experienced adventurers to at least some of the breathtaking places we have discovered over the years.
We strive to enrich their lives through fun experiences and adventure.
Why Adventure With Us?
Thanks to our long-term backcountry experience and local knowledge we can maximize your time to enjoy the wilderness surrounding Whistler and its adjacent destinations.
You want to have fun and to relax, and we are here to take care of the rest:
safety – mountain conditions, weather, wildlife
first aid and emergency response
navigation
logistics and trip planning
and many other small details including gear and food for backpacking trips
Experience
The right skills and experience for guiding in the wilderness take long time to accumulate. They require a unique blend of passion for outdoors, continuous learning, sound judgment and outgoing personality.
Our lead guide, Stano Faban, has been playing in the mountains since he was a toddler and loves to make people laugh. He is responsible for all hiring and training as well as guiding every day he can. (To apply, email us through our quick contact form.)
With over 20 years of summer and winter backcountry experience, Stano is a certified hiking guide and wilderness first aid responder.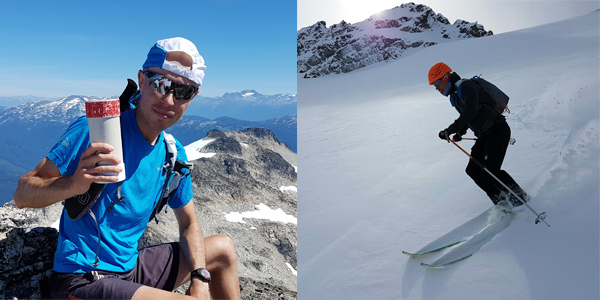 While he has been adventuring all over the world his favourite playground are various Canadian mountain ranges, especially the Coast Mountains around Whistler, Pemberton and Vancouver.
Here are highlights of adventures and accomplishments that helped Stano gain valuable experience:
climbing and skiing 7000m peaks in Kyrgyzstan and China
completing various multi-day wilderness hikes
skiing multi-day winter backcountry ski touring traverses (up 100km long)
ascents of many peaks in Canada and abroad (climbing, skiing, hiking, running)
representing Canada at 2010, 2011 and 2017 World Ski Mountaineering Championships
organizing and volunteering at various sporting and mountain events
placing top 5 in many triathlon, ski mountaineering and running races
Life happens between dirt and the clouds.
They say virtual reality is the "next thing" and will soon change the way we travel.
But why wait when we can enjoy the real thing right now.
How do you want to adventure?